Grease stains can be one of the most difficult stains to remove, especially when they have been left sitting on fabric for a long period of time. Fortunately, there are several natural methods available to help you remove these unsightly stains with ease. By using simple ingredients such as salt, baking soda, white vinegar, and even dish soap, you can effectively remove grease stains from both fabric and other surfaces with minimal effort. This guide will provide you with step-by-step instructions on how to remove grease stains naturally.
1. What Causes Grease Stains
Grease stains occur when oils and fats come into contact with a surface. This could be from cooking, transferring food, or even from a spill. Grease stains are especially difficult to remove because the oils and fats bind to the fabric or surface, and remain even after washing or cleaning. The best way to prevent grease stains is to act quickly if a spill occurs. Blot up as much of the grease as possible with an absorbent cloth, and then apply a detergent or specialized stain remover.
2. Natural Products for Removing Grease Stains
Grease stains can be a huge nuisance, but they don't have to be! Natural products like baking soda, white vinegar, and lemon juice are great at removing grease stains from clothing, upholstery, and carpet. Baking soda is a natural deodorizer and works to absorb grease from the surface of fabrics. White vinegar helps to break down the stain and helps it to come out of the fabric more easily. And lemon juice helps to break down the grease and can even be used as a mild bleaching agent. All of these natural ingredients can provide a safe and effective way to remove stubborn grease stains without the need for harsh chemicals.
3. DIY Grease Stain Remover Recipes
Do you have grease stains on your clothes that just won't budge? Instead of using harsh chemicals to clean them, why not try making your own DIY grease stain remover from home ingredients? This blog article will introduce you to three easy-to-make grease stain remover recipes, all of which use items you likely have in the cupboard or fridge. From a simple baking soda paste to a mixture of dish soap and cornstarch, you'll be able to tackle those greasy messes in no time.
4. How to Apply Natural Grease Stain Removers
Removing grease stains from fabric can be a difficult and labor intensive task. The good news is that natural grease stain removers are an effective and environmentally friendly solution. Using ingredients like baking soda, white vinegar, and liquid dish soap, you can quickly and easily remove grease stains from your clothes and fabrics. Here are the steps to take to apply a natural grease stain remover: First, mix equal parts of baking soda and white vinegar. Next, apply the mixture to the grease stain and let sit for 10 minutes. After 10 minutes, use a soft cloth and gently rub the mixture into the stain. Finally, use liquid dish soap and warm water to rinse the mixture and the stain away. With these simple steps, you can easily remove grease stains with natural grease stain removers.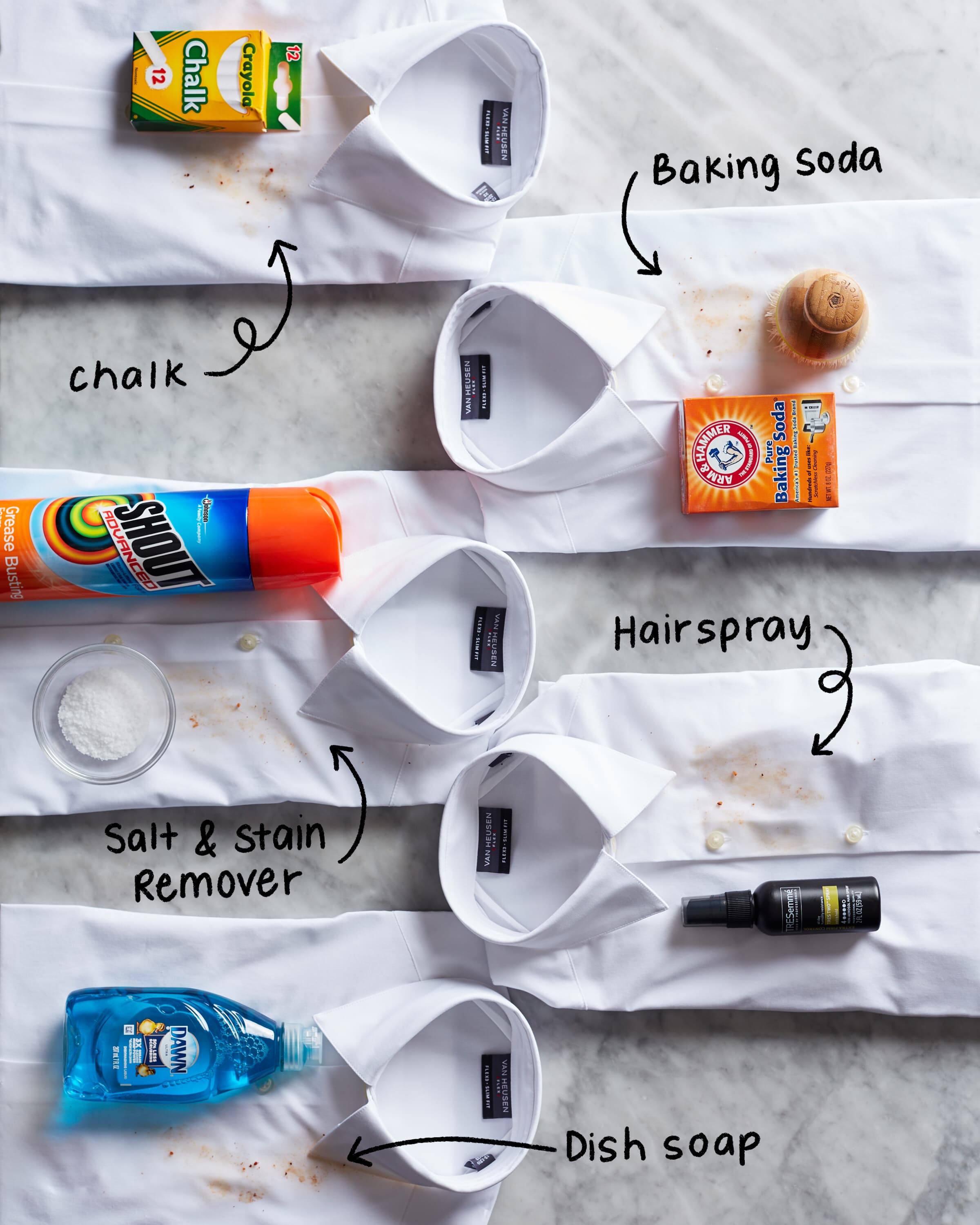 Credit: https://www.thekitchn.com/best-way-to-get-grease-stains-out-of-clothing-23088967
5. Tips and Tricks for Removing Stubborn Grease Stains
Stubborn grease stains can be a real nuisance! Whether it's from cooking, car maintenance, or everyday wear and tear, getting rid of these tough stains can be a challenge. But don't despair, we've got you covered! In this blog, we'll be discussing tips and tricks for removing stubborn grease stains from clothing, upholstery, and other fabrics. We'll cover everything from common household ingredients and DIY solutions to professional cleaning products and methods. Armed with these practical solutions, you'll be able to keep your fabrics looking like new and save yourself time and energy in the process!
6. Common Mistakes to Avoid When Removing Grease Stains
Removing grease stains can be a difficult task, but there are some common mistakes you should avoid if you want to succeed. Firstly, never rub or scrub the stain as this could cause it to spread and set deeper into the fabric. Secondly, do not use hot water on the stain, as this can set the grease, making it harder to remove. Thirdly, do not use harsh chemicals to try and remove the stain, as this could damage the fabric. Fourthly, never use bleach to remove the stain, as this could cause discoloration. Finally, never put the fabric in the dryer with the stain still on it, as this will cause the stain to set in permanently. By avoiding these common mistakes, you will be able to successfully remove grease stains from your clothes and fabrics.
7. Why Natural Grease Stain Removers Are Better
Grease stain removal can be a daunting task, but using natural grease stain removers can help make it easier and less of a hassle. Natural grease stain removers are typically made with natural ingredients, like baking soda, vinegar, and essential oils, that are safe to use on fabrics. They are also more effective than harsh chemical-based cleaners as they are better at breaking down stubborn grease stains. Plus, natural grease stain removers are often more gentle on fabrics and don't have any strong odors. These natural ingredients are also often more affordable than chemical-based grease removers, making them the perfect solution for anyone looking to tackle tough grease stains without breaking the bank.
8. How to Keep Grease Stains from Reoccurring
Grease stains can be a tricky thing to keep away from your prized belongings. To keep grease stains from reoccurring, start by pre-treating the area with a grease-fighting detergent. Allow the detergent to sit for a few minutes before scrubbing the area with a soft brush or sponge. Next, treat the spot with a solution of one part vinegar and two parts water. Blot the area with a clean cloth or paper towel to remove any excess liquid. Finally, rinse the spot with cold water and then launder the item as usual. By following these steps, you can keep those pesky grease stains from reoccurring.
Conclusion
Removing grease stains naturally is an effective and environmentally friendly way to keep your clothes looking their best. Baking soda, vinegar, dish soap, and lemon juice are all great natural ingredients to use for tackling stubborn grease stains. As always, it is important to pre-treat the stain and test any cleaning solution on a small, hidden area of the fabric before applying it to the stained area. With a little elbow grease and the right natural ingredients, you can easily and safely remove grease stains from clothing.