When you are locked out of your home or your car, you may need the services of a locksmith. Locksmiths provide a variety of services, from resetting locks to creating new keys. They can also help you if you have broken your key or lost your keys. In some cases, they can even create a master key that will allow you to enter any lock. Knowing when to call a locksmith can help you save time and money.
Benefits of Calling a Locksmith
Calling a locksmith is a great way to save time and money when you need to secure your property. Whether you are locked out of your vehicle, home, or business, a professional locksmith can quickly and safely provide access to your property. Additionally, locksmiths can provide a variety of other services, such as lock repairs, rekeying, and installation of high-security locks. By calling a locksmith, you can have peace of mind knowing that your property is secure and that you don't have to worry about losing time or money. Furthermore, locksmiths can provide advice and guidance on the best type of security solutions for your needs. With their extensive knowledge and experience, they can help you find the best locks for your situation. So, don't waste time and money trying to solve a lockout problem yourself. Call a reliable locksmith today and enjoy the many benefits they offer.
Signs You Need to Call a Locksmith
When you're locked out of your home or car, it's important to know if you need professional help. Knowing the signs that you need to call a locksmith can save you time, money, and frustration. Here are 4 signs you should call a locksmith:
If you've lost your keys or they've been stolen, a locksmith can help you secure your home or car by making a new set of keys or rekeying the locks.
If you're unable to open a lock, a locksmith can open this for you without causing any damage.
If you've moved into a new home or office, replacing the locks is a good way to ensure your security.
If you're having trouble with an electronic lock, a locksmith can help you troubleshoot the issue.
If you're having any of the above issues, don't hesitate to call a professional locksmith. They can provide a safe, secure, and cost-effective solution for you.
Types of Services a Locksmith Can Provide
A locksmith is more than just someone you call when you've locked yourself out of your home or car. They provide a range of services to secure your property and keep you safe. From rekeying locks to creating master key systems, a locksmith can help you protect your possessions. They can also provide services such as repairing and replacing locks, installing high-security locks, setting up security systems, and providing emergency lockout assistance. Whether you need to secure your home or business, a professional locksmith can provide you with the security you need.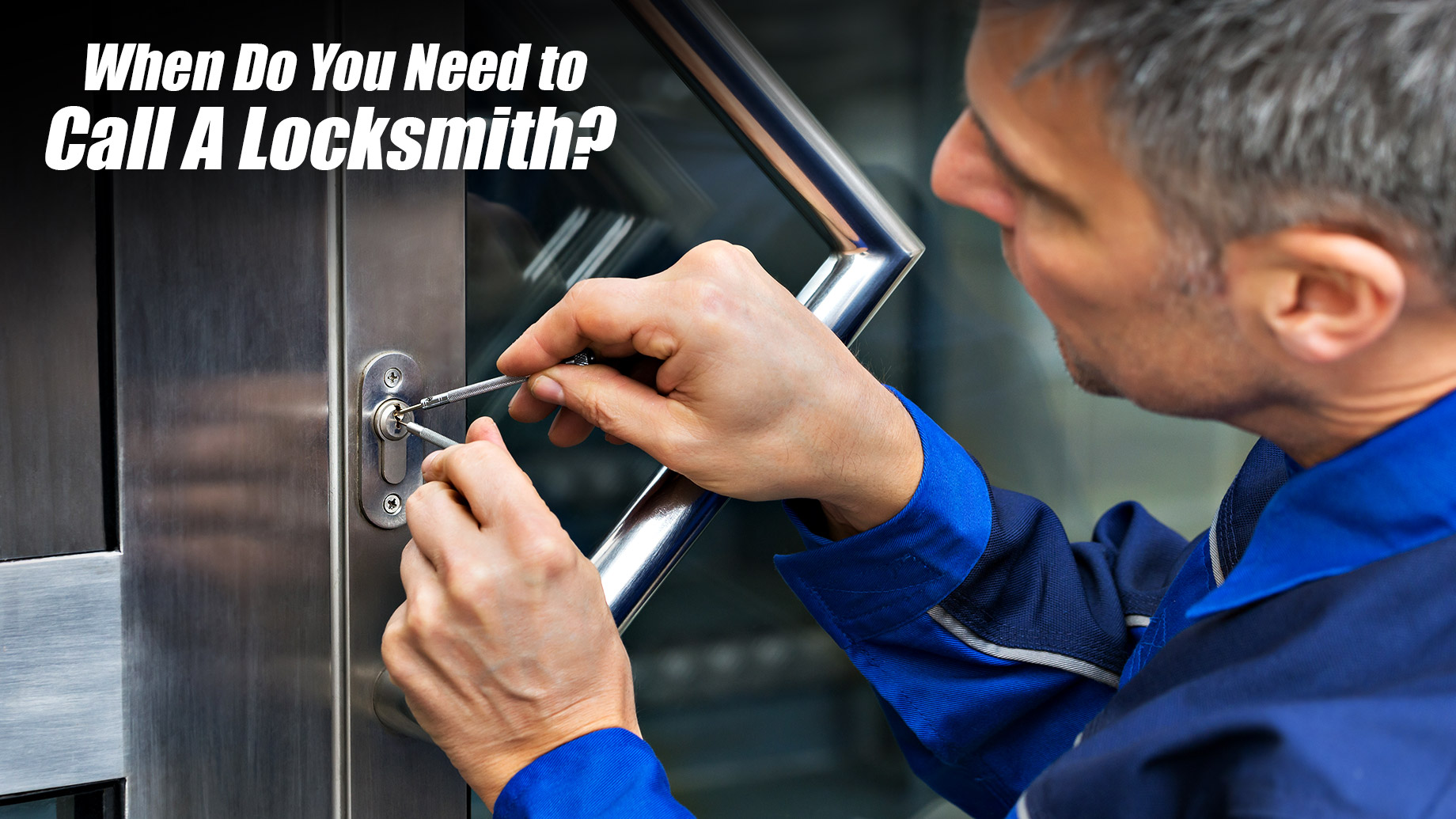 Image source: https://www.thepinnaclelist.com/articles/when-need-to-call-locksmith/
Tips for Choosing a Reputable Locksmith
When searching for a locksmith, it's important to find one that is reputable, experienced, and reliable. Not all locksmiths are created equal, so there are a few tips to consider when making your selection. First, do your research and compare locksmiths in your area. Ask for referrals from family and friends, or search online for customer reviews.
Next, make sure the locksmith you choose is licensed, bonded, and insured. This will ensure that the locksmith is qualified to work on your locks and that you are protected in the event of any damage or injury that may occur.
Finally, find out if the locksmith offers a free estimate on services. This will help you get a better idea of the cost of the services you need and ensure that you're getting the best value for your money.
Choosing the right locksmith can be a challenge, but by researching your options and asking the right questions, you can be sure that you've found one that is reputable and trustworthy.
Cost Considerations When Calling a Locksmith
Hiring a locksmith can be a necessary part of life, particularly when you experience a lockout or need a lock replaced. However, it is essential to consider the cost when making this type of call. Locksmiths charge for their services based on the complexity of the job, the time it takes to complete it, and the materials required. You should research locksmiths in your area to ensure you get the best quality services at the most competitive rates. Additionally, be sure to ask for a quote before work begins to avoid any surprises on the bill. With the right planning and research, you can call a locksmith without breaking the bank.
Frequently Asked Questions About Locksmiths
Locksmiths provide a valuable service, but many people are unfamiliar with what they do and how they can help. The following are some of the most frequently asked questions about locksmiths and their services.
Q: What services do locksmiths provide?
A: Locksmiths provide a variety of services, such as creating and installing new locks, re-keying existing locks, changing locks, repairing locks, and duplicating keys. They also provide emergency services, such as unlocking locked doors and providing temporary locks.
Q: Can a locksmith open any lock?
A: Generally, locksmiths can open almost any lock with the right tools and skill. However, some locks may require special tools or techniques that not all locksmiths are equipped with.
Q: How do I know if a locksmith is qualified?
A: Most locksmiths are certified and registered with their local government or trade association. It is important to always check the credentials of the locksmith you are considering to ensure they are qualified to do the job.
Q: How much does a locksmith charge?
A: Locksmith fees vary depending on the type of service and the location. Most locksmiths charge an hourly rate, although some may offer flat fees for specific services. It is important to ask for an estimate before any work is done.
Conclusion
Calling a locksmith can be the best solution to your lock-related issue, whether it's a broken key, a lost key, or an upgrade to your security system. A locksmith can help you gain access to your property or provide a reliable security system to protect your home or business. Regardless of the situation, it's important to contact a professional locksmith to ensure the job is done correctly and quickly.