A towel bar is an essential accessory for any bathroom, but its placement can be a tricky decision. Depending on the size and layout of the bathroom, the ideal spot for a towel bar can vary. To ensure that it is both accessible and aesthetically pleasing, it's important to consider how the bar will fit into the overall design. Generally, the most practical location for a towel bar is near the sink, usually within arm's reach. For larger bathrooms with multiple sinks, multiple towel bars may be needed. When installing a towel bar, it's important to make sure that it is securely fastened to a wall stud. If possible, it should also be placed at a comfortable height for the user, usually between 48 and 52 inches from the floor. With careful consideration and placement, a towel bar can provide a convenient and attractive addition to any bathroom.
Benefits of Towel Bars
Towel bars are an essential addition to any bathroom, providing a convenient way to store and display fresh towels. They are a great way to keep towels dry and organized, preventing them from becoming wet and musty. Not only are towel bars convenient and stylish, but they also offer a number of additional benefits. Towel bars keep towels off the floor, creating a tidier, more pleasant bathroom environment. They also make it easier to quickly grab a fresh towel when needed, making them a great choice for busy households. Towel bars are also highly customizable, allowing you to choose the perfect size and style to fit your bathroom's décor. With all these benefits, it's no wonder why towel bars are a popular choice for bathrooms around the world!
Towel Bar Installation Tips
Installing a towel bar is a great way to spruce up the look of your bathroom. With some basic tools and a few helpful tips, you can easily install a towel bar in no time. Here are some tips to make the installation process easier: 1. Measure the space where you want to install the towel bar to ensure it fits before you begin. 2. Remove any old hardware from the wall and clean the surface with a damp cloth to ensure the towel bar will stay in place. 3. Use a level to make sure the bar is perfectly straight before you attach it to the wall. 4. Follow the instructions that come with the towel bar to ensure the mounting hardware is securely fastened. 5. Once the bar is firmly in place, you can hang your towels and enjoy your stylish new look. With these tips, you'll be ready to show off your new towel bar in no time.
Common Placement Locations
Blog placement is an important factor when it comes to getting your articles seen and read. Knowing the best places to put your blog can make all the difference in terms of viewership. Common placement locations for blogs include social media channels, such as Facebook, Twitter, and Instagram, as well as websites, news feeds, and email newsletters. Additionally, SEO optimization techniques, like keywords and backlinks, can help make your blog more visible in search engine results. By using these strategies, you can ensure your blog is seen by as many people as possible.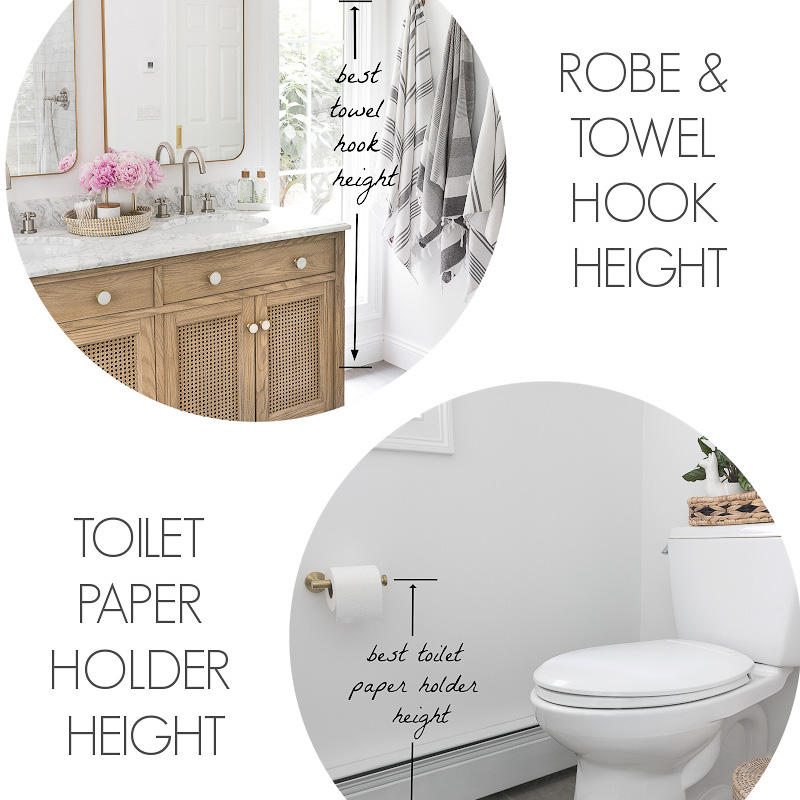 Image source: https://www.drivenbydecor.com/bathroom-measurements-towel-bar-toilet-paper-holder/
Considerations for Placement
When considering the placement of a blog, it is important to think about the audience you are trying to reach. Consider the topics that will be covered, the format of the blog, and the frequency of posts. It is important to determine the overall goal of the blog and to ensure the blog is placed in a location that will drive the most traffic. Additionally, it is important to consider the design of the blog and the potential for SEO optimization. By taking the time to plan the placement of a blog, you can ensure the blog is used effectively to reach the desired audience.
Bathroom Ergonomics
Bathroom ergonomics is the practice of designing bathrooms with the aim of optimizing user experience and comfort. It involves considering factors such as layout, lighting, and accessibility to make sure that bathrooms are as user friendly and efficient as possible. By taking into account the needs of users, such as elderly people or those with mobility issues, bathroom ergonomics can help to create an environment that is both functional and enjoyable to use. In addition, ergonomic bathroom design can also help to reduce the risk of accidents and injuries, such as slips and falls. Ultimately, ergonomic bathroom design can help to ensure that bathrooms are both safe and comfortable for everyone who utilizes them.
Towel Bar Styles
When it comes to choosing the right towel bar for your bathroom, you have a range of styles to choose from. Whether you're looking for a sleek, modern look or a more traditional style, you'll find the perfect towel bar to complement your bathroom's aesthetic. From angled styles to straight bars, you can find a range of sizes, materials, and finishes to match any decor. If you're looking for a minimalist look, try a sleek wall-mounted bar with a chrome finish. For a more rustic feel, go for a wooden bar with a natural finish. If you're going for a classic look, opt for a traditional bar with ornate detailing and a brushed-nickel finish. No matter what look you're going for, you'll find the perfect towel bar style to fit your needs.
Conclusion
In conclusion, the ideal placement for a towel bar is in an area where it is easily accessible, such as near a bathtub, shower, or sink. It should be placed at a height that is comfortable and convenient for the user. Additionally, it is important to consider the layout of the bathroom and the size of the towel bar to ensure that it does not interfere with the overall design of the bathroom.